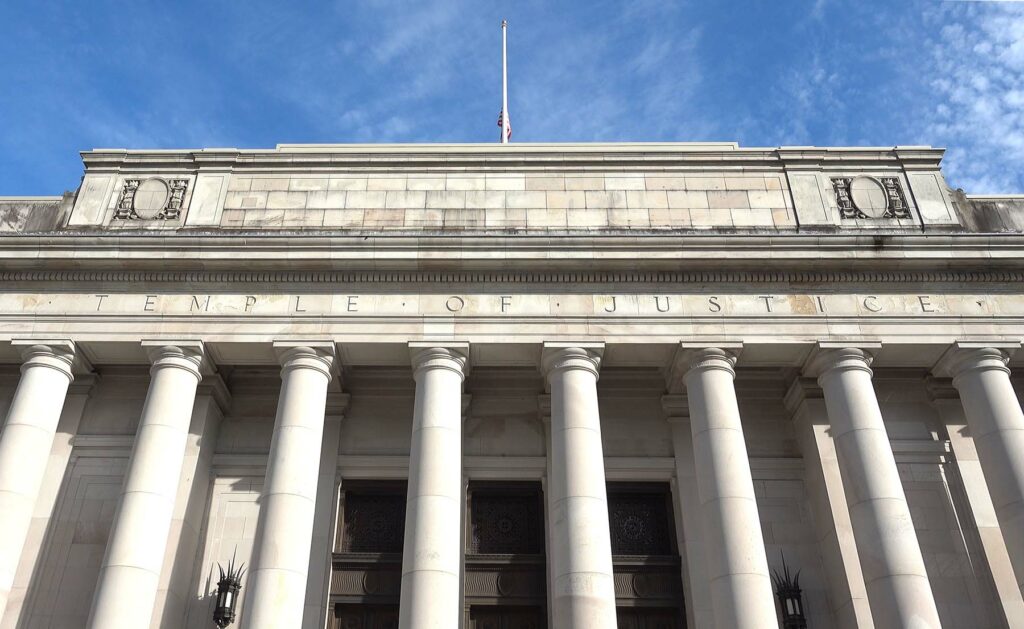 We specialize in appeals in the Washington State Supreme Court, the Washington State Court of Appeals, and the U.S. Court of Appeals for the Ninth Circuit.
We also are experienced with appeals in other states' appellate courts and the U.S. Supreme Court.
We also specialize in matters involving attorney fees and ethics.
Case Evaluations
We analyze the lower court documents presenting your arguments, the relevant case law, and the trial court's decision. We inform you of the best arguments you have on appeal, to either keep your win or to obtain a reversal. We warn you which areas are not worth pursuing because they will distract a court from your winning arguments. This service gives you a focus for brief-writing because you have a court perspective from the start. We will advise what to keep in mind when drafting your brief. After you receive our written evaluation, we are happy to discuss your questions or concerns. Our evaluations are very useful for settlement purposes.
We are able to set the cost of this evaluation in advance and can do this work on an hourly or flat fee basis.
Handling the Entire Appeal
We are pleased to associate with trial counsel to prepare the record, draft the brief, and argue the case in state or federal court. We are also happy to appear pro hac vice in other states' appellate courts.
We can do this work on an hourly basis, a contingent basis, or a combination of both.
Work on Briefs
We can assist in the writing, or help with the review of your draft brief. We will make the necessary revisions, both substantive and stylistic, so that your brief will be persuasive. We promptly return your draft, with our revisions, so you have plenty of time to file it.
If you are an appellant, your reply brief is especially important. You can lose an appeal if you do not know how to counter the arguments in the respondent's brief, and if you do not know how a court will perceive those arguments.
We charge an hourly rate for brief work.
Oral Argument
We are pleased to perform the oral argument. It is valuable to know where a court's questions will come from, and how to answer them. No one wants the panel to raise issues he or she hadn't foreseen. We can also prepare you for oral argument because we generally know which issues will most concern the panel judges. Such mock argument sessions are useful to practitioners who do not appear frequently in appellate courts.
Help with Amicus Briefs
Talmadge/Fitzpatrick often assists in appeals by submitting an amicus curiae, or friend of the court, brief on behalf of a party affected by an issue in a case pending on appeal both in state and federal court. This is the best way for an individual party or association that is not directly involved in a case to weigh in on important issues affecting them.
Under the Washington Rules of Appellate Procedure, a party may be a friend of the court in the Supreme Court, as it decides whether to accept review, or in any appellate court on the merits. A request for amicus status must be by motion 60 days after a petition for review is filed in the Supreme Court or 30 days before oral argument on the merits in any appellate court. Similar deadlines apply in federal cases. This puts emphasis on making an early decision on amicus submission.
We were successful in supporting a positive outcome for our clients as friends of the court in Qualcomm, Inc. v. Dep't of Revenue, 171 Wn.2d 125, 249 P.3d 167 (2011) and in Westberry v. Interstate Distribution Corp., 164 Wn. App. 196, 263 P.3d 1251 (2011), review denied, 174 Wn.2d 1013 (2012).
Contact us to discuss amicus briefs.
Assistance on Interlocutory Review
Not every appeal is from a final judgment. Washington's appellate rules allow for appeals from interlocutory trial court decisions. Sometimes such appeals are of right, if the trial judge certifies the order under CR 54(b) as a final judgment. More often, such review occurs by motions for discretionary review under RAP 2.3(b). Similar interlocutory review provisions apply in federal courts.
We can help you secure review. Although only about 10% of such state court motions are granted, we also know how to defeat such interlocutory review. We have experience in addressing interlocutory review issues and we have also written extensively about such motions. See Phil Talmadge's King County Bar Bulletin article at the KCBA website.
Recently, we assisted Jim Jacobsen and Joe Stacey in McCallum v. Glacier Fish Company, LLC. The Trial Judge ruled that Mr. McCallum, who lost his leg in an egregious shipboard accident in Alaska, could seek punitive damages in connection with his Jones Act and unseaworthiness claims against Glacier, the vessel owner. Nevertheless, the trial judge certified her under RAP 2.3(b)(4). We successfully defeated Glacier's motion for discretionary review and motion to modify in the Court of Appeals and its RAP 13.5(b) motion for discretionary review and motion to modify in the Supreme Court.
Interlocutory review efforts are important and often hard-fought. Talmadge/Fitzpatrick can help you in addressing them in both state and federal court.
Petitions for Review to Supreme Court
A vitally important part of the appellate process is review by our Washington Supreme Court of decisions by the Court of Appeals. Unlike review of final judgments by the Court of Appeals which is of right, meaning review is automatic, review by the Supreme Court is discretionary. Unsuccessful parties in the Court of Appeals must petition the Supreme Court to hear their case. The Supreme Court need not take the case and, in fact, does so in much less than 10% of the petitions filed.
Talmadge/Fitzpatrick can help you with your petition for review, both in seeking review or in defeating review. We have practical experience in addressing petitions for review to the Court. That practical experience is derived not only from filing petitions and answers to them, but also from the experience of our lawyers who have served on the Supreme Court, as Supreme Court law clerks, and on the Commissioner's staff where all petitions for review are initially screened and considered, and a staff memorandum on review is prepared for consideration by the justices.
Contact us. Talmadge/Fitzpatrick can help you with the petition for review from a Court of Appeals decision.
Disciplinary Appeals
Talmadge/Fitzpatrick can help you with your Supreme Court appeals on lawyer or judicial discipline or issues relating to the Rules of Professional Conduct because Talmadge/Fitzpatrick has the unique combination of experience in both appellate practice (Phil Talmadge) and professional responsibility (Tom Fitzpatrick).
We have a track record of successful appeals in this specialized area where it is rare that the Supreme Court does not follow the recommendation of the disciplinary authorities:
In re Disciplinary Proceeding Against Niemi, 117 Wn.2d 817, 720 P.2d 41 (1991) (defeated judicial discipline);
In re Disciplinary Proceedings Against Marshall, 160 wn.2d 317, 157 P.3d 859 (2009) (prevented interim suspension and reduced discipline of attorney from disbarment to 18 months suspension).
We can help you on the briefs and the argument of your case.
Our lawyers can also assist you in a forensic capacity, testifying with respect to the standard of care in professional negligence cases. See Ethics, Professional Responsibility, and Attorney Fees—Forensic services entry in this website.
Finally, Talmadge/Fitzpatrick attorneys have represented non-legal professionals in disciplinary appeals, particularly in health care fields. We can assist you in the briefing and argument of such appeals.